Ever been to Kinga's? You might have seen this guy around.
Meet BRETT HIKER!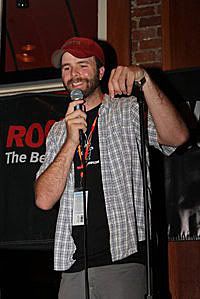 Brett Hiker is a Denver based comic and a founder of the Kinga's Lounge Comedy Show, one of the most popular shows in Denver.  He began his comedy career in Albuquerque where in his first year of stand-up he was one of 12 finalists in the "Southwest Laugh Off", a contest searching for the funniest comic in the Southwest corner of the country. He has performed across the U.S. as well as major international cities including Amsterdam and Berlin.  Currently Brett continues to host his weekly show at Kinga's, is a regular performer at Comedy Works (one of the top rated comedy clubs in the nation), and has been featured in the Laugh Track, Great American, and Aspen Comedy Festival.  Brett has performed well known comedians from all over the country such as Todd Glass, Chris Fairbanks, Josh Blue and last year made his TV debut as a guest comic on the late night talk show " The After After Party with Steven Michael Quesada" (of "Breaking Bad" fame).
Laugh Track: How long have you been a stand-up comic?
Brett: 4 years (or 35,040 hours)
What other comics will you be watching during the festival?
I'm not too familiar with a lot of the out of town comics but definitely looking forward to watching Mo Welch and Jay Washington.  Also stoked that some of my best friends and favorite Denver comics are performing: Sam Talant, Ben Ray, Chad Galli, Joey Champion, Gordan Doll, etc. [sic]
If you could give yourself advice when you first started out, what would it be?
Good god… how about "never ever take a comedy class".  I have barrels and barrels of snake oil in my basement now and I have no idea what to do with them.  That and: "talking about kicking a dog" = not funny,  "talking about kicking a cat" = very funny
If your future self ten years from now could give you advice, what would it be?
"Hey, so hand sanitizer… it turns out to be kind of 'the asbestos' of our generation.  Stay away from it…"
5) Scientology inspired questions. Feel free to go into detail if you need to. Here we go…

a) Do you lie about yourself? I don't have time to answer these questions… SOMEONE needs to steer the yacht
b) Do you connect yourself with bad influences? I probably AM the bad influence  (…probably why my straight laced college roommate is now addicted to bath salts)
c) Should you be punished forever? Not "forever"… but I'll kind of be disappointed in the theocratic justice system if I don't have to do at least a little heavy lifting in the after life.
d) Have you ever invented perverted sexual practices? "Practices?!" We're sitting in here, and I'm supposed to be a franchise comic, and we in here talking about practice. I mean, listen, we're talking about practice, not actual sex, not sex, not sex, we talking 'bout practice Not sex. Not, not … Not the sex that I go out there and die for and play every sexual escapade like it's my last. Not the sex, but we're talking about practice, man. I mean, how silly is that? … And we talking about practice. I know I supposed to be doing it. I know I'm supposed to lead by example… I know that… And i'm not. I'm not shoving it aside, you know, like it don't mean anything. I know it's important, I do. I honestly do… But we're talking about practice man. What are we talking about? practice? We're talking about practice, man. We're talking about practice. We're talking about practice. We ain't talking about the sex and even the foreplay. We're talking about practice, man. When you come to the Laugh Track Comedy Fest, and you see me having live sex on stage, you see me have sex don't you? You've seen me give everything I've got, right? But we're talking about practice right now. We talking about prac–Man look, I hear you… it's funny to me too, I mean it's strange… it's strange to me too, but we're talking about practice man, we're not even talking about the sex… the actual sex, when it matters… WE — ARE TALKING — ABOUT PRACTICE … (but yes, I do)
e) Is there a past life that you can't talk about? There's a present life I can't talk about!!  Probably why I do mostly pirate jokes on stage…
To see Brett, get your tickets for Thursday Comedians – 9:00pm, Thursday, August 2 @ The Bug Theatre
See our full schedule here

Tags: brett hiker, bug theatre, stand up, thursday comedians