Saturday Films – 8:00pm @ The Oriental Theater
Zombies can be judgmental assholes, too.
Laugh Track presents RACIST ZOMBIES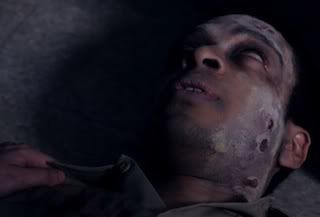 Synopsis: The Charlies discover the only thing worse than zombies: Racist Zombies
Director: The Charlies
Laugh Track: How much time and energy did you spend making the movie?
The Charlies: The Charlies spent a full day crammed into a tiny dollar store in Sunset Park, Brooklyn for the shoot, covered in sweat, (fake) blood, and tears. The script was workshopped amongst the group for awhile before that, and post-production took a few weeks.
The hardest part, believe it or not, was renting the prop gun. New York's tough on guns, even with fake ones, and we had to submit a letter on official letterhead to get the rental. But hey, now we have Charlies stationary!
Do you think it was worth all that time/energy?
Yes, absolutely. That said, there were some hurdles starting out: It was our first full-length sketch video. Our audience was still small. Props would be expensive. In those first moments, it may have felt a little bit like overkill for something that maybe a couple of hundred people would see.
Since we made it we've been genuinely surprised at how well it has done. Making the Funny or Die homepage on Halloween was our first milestone, which was something to be proud of. But since then the video has been a part of a number of film and comedy festivals (like yours, thanks!), as well as being featured on UCB Comedy and getting thousands of views online.
No, honestly. Was it?
Yes, why are you calling us liars?
What's the funniest thing that happened on set? And by funniest we mean the most horrible thing.
The dollar store was amazing – filled with weird generic versions of name brand products that were so outlandish we almost didn't believe it (Can't find Sharpies? Use a Skerpie.)
The guys who owned the dollar store we shot in also owned a bodega next store. They had agreed to let us shoot there for a couple hundred bucks. We shot for probably 8 or 9 hours and made more than a few trips to the bodega for refreshments. Midway through the shoot, while we're at the bodega getting snacks, one of us noticed that dudes in the bodega next door could see us (and were likely watching us the whole time) on secret hidden security cameras.
Convince us why your film should win our top award. Best answer wins the award (joking…or are we?)
Our film breaks with the unfairly racist convention in horror movies that the black guy always dies first. Technically our black guy dies second. Of course, in a zombie apocalypse, the definition of "die" is a bit muddled. We still believe we deserve the top award, if not the Nobel Peace Prize.
See this film plus many more at Saturday Films – 8:00pm @ The Oriental Theater – Click here to buy tickets.
Tags: comedy, comedy festival, denver, laugh track, oriental theater, racist zombies, saturday films, short film, the charlies